Australia's Leading Hair Loss Diagnostic & Hair Loss Treatment Clinic
Hair Loss Clinic Sydney
Straight-forward and effective NEW hair regrowth treatments for men and women
Book your free Hair Health Check today at our hair loss clinic Sydney to receive your complete clinical hair loss diagnosis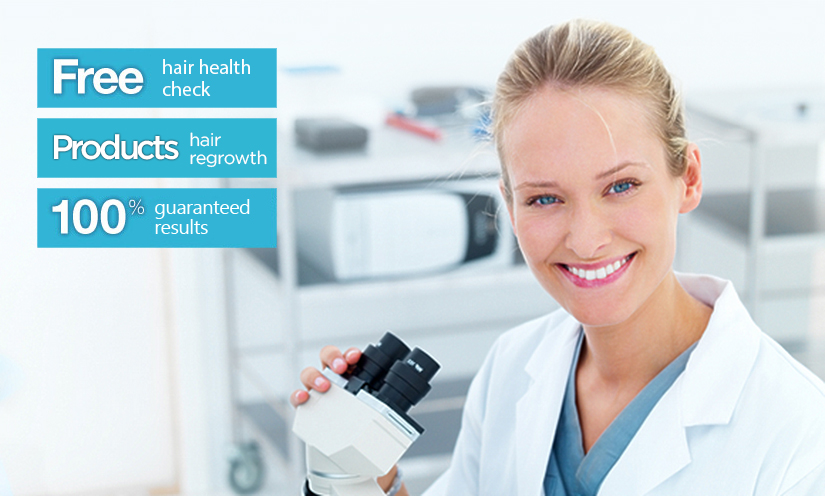 THE HAIR HEALTH AUSTRALIA DIFFERENCE
Our Hair Loss Clinic Sydney has easy and affordable hair regrowth treatments which our specialists can 100% guarantee. Possible results can only be determined by a Free Hair Health Check 
Hair Health Australia's hair loss clinic Sydney offers straight-forward and effective hair loss treatments for all hair loss conditions in men and women. We use the most up-to-date hair loss diagnostic equipment to customise treatments and effectively maximise hair regrowth at an affordable price.
We understand that hair loss can be quite confronting, so our specialists treat you as an individual, and customise our treatments to best suit you to maximise hair regrowth and recovery. All of our hair loss treatments are convenient and designed to suit any lifestyle, no matter how busy.
It is our mission to ensure that you are educated on your particular type of condition and have a full understanding of how the recommended hair loss treatment will work to achieve maximum hair regrowth. The specialists at our hair loss clinic Sydney will therefore only recommend clinically proven hair loss treatments, which are effective in halting hair loss and maximising your own potential hair regrowth.
"Hair Health Australia were amazing. The Hair Health Check took all the second guessing out and the results were so quick." Sean, 26
"I had tried other places but Hair Health Australia was great. I got real results and they were really great value." Jules, 31
HAIR LOSS DIAGNOSTIC HAIR HEALTH CHECK
NO COST
NO OBLIGATIONS
KNOW YOUR RESULTS UPFRONT
BOOK TODAY
ONLY 30 MINS
There are many reasons as to why you may be experiencing hair loss; for example hereditary male and female pattern hair loss, stress, medications, hormonal imbalance, nutrient deficiency, as well as a range of other less common causes.
Before we can recommend the best hair loss treatment for you, we conduct our unique Hair Health Check.
Our Hair Health Check will clinically diagnose the type of hair loss affecting you, and establish the number of active hair follicles you have available to regrow prior to the commencement of any hair loss treatment.
Call our hair loss clinic Sydney today to book a Free "Hair Health Check" on 1800 908 898 or (02) 93190051 or simply fill in your details to the top right of this screen to have one of our specialist call you. 
HAIR LOSS TREATMENT
Hair Health Australia is a male and female hair loss treatment clinic which offers effective hair loss treatments for all individuals at any stage of the hair loss cycle – even those in more progressed stages.
Our new hair loss treatment "Combination Therapy™" enables you to regrow more of your own natural hair than ever before. This means that even if you have previously tried to regrow your hair using other hair regrowth treatments with limited success, "Combination Therapy™" can now help.
No other clinically proven treatment is more effective in maximising new hair growth, and reversing and halting hair loss. Hair regrowth treatment is fast, effective, easy and affordable.  See some of our amazing results from our hair loss clinic Sydney below:
"I was so confused on why my hair was falling out and I had been to my doctor and anyone I could see and even tried eating healthier, lost weight and tried every product for hair I could get my hands on I was really starting to panic, but to have my hair loss diagnosed so quickly by Hair Health Australia with their amazing equipment and then to have the specialist explain that there was more than one reason for my hair loss and therefore not just one treatment approach and told it was treatable and no matter how healthy or unhealthy I was that my hair loss would have still happened. To hear this felt like a huge weight off my shoulders and a huge relief. So I started a customised treatment course straight away and within 6 weeks my hair fall had returned to normal and I was already seeing new hair growth, 3 months on and my hair is back to how it use to be, I still have new hair coming through and it is at different lengths but I'm only waiting for length to grow now, I could even colour my hair throughout treatment" Emma, 42
"Been thinning for a couple of years I think and just thought that I had to accept that I would be a bald man but at only 28 I felt too young to be bald so I saw my doctor and he referred me to Hair Health Australia which sorted things out for me. It's looking heaps better and I feel like myself again and it didn't cost no where near what I thought it would, everything the specialist said would happen did so no stress involved at all." Mohammed, 28